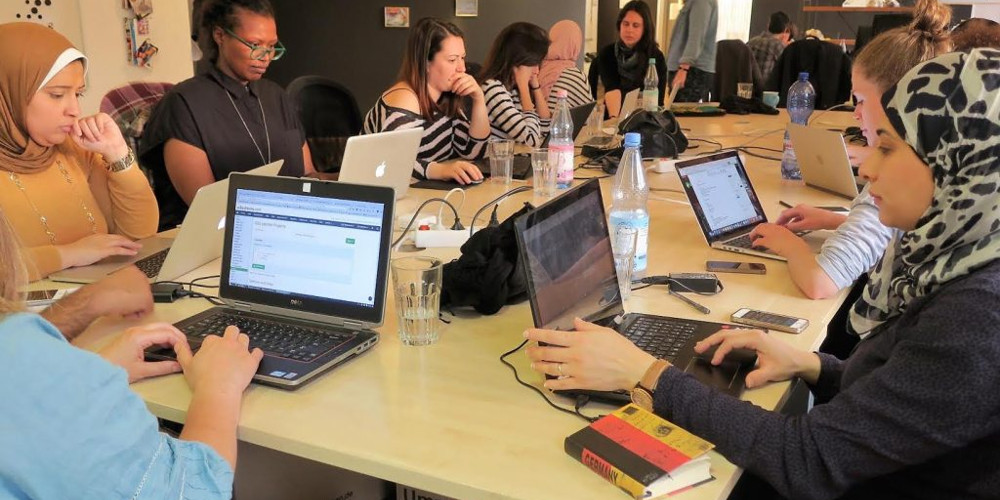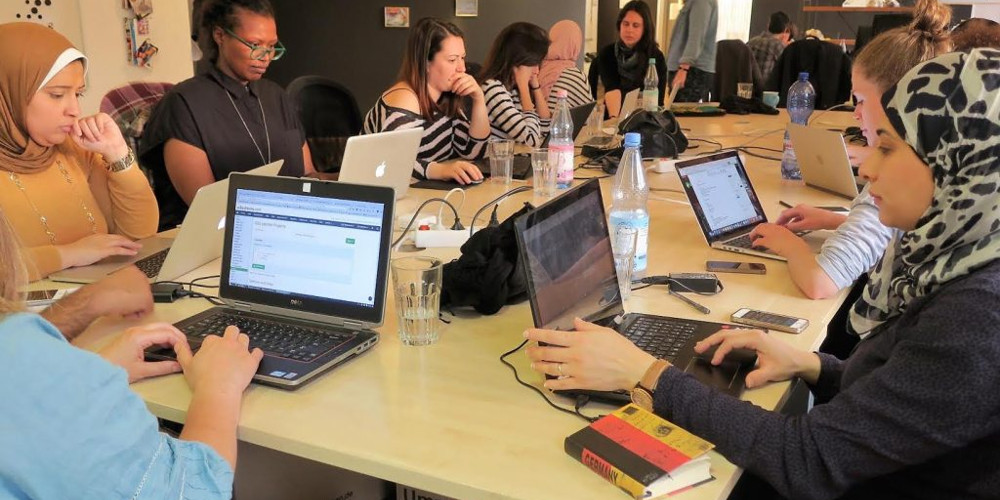 How a Tech Integration project turned into Tech for Global Women in Berlin
Two years ago, I created a program to address what I saw as a gap in existing social-tech initiatives in Berlin. With a background in Middle East history, and an almost 20-year career in IT, I was excited to use tech skill training as a way to help integrate new refugee status-holders into Berlin. Because I felt that technology has been a fantastic industry for me, I wanted others to get to know the industry as such. Yet I was disappointed to find "refugee tech" programs that more or less omitted women, or that made "refugees" their explicit focus — ensuring that gender disparity wouldn't be.
From my neighbors, from local German parents, and from Germans who did not work in the digital field, I soon learned that my digital activities in the software industry had put me into a kind of "Berlin bubble." In this bubble, women over 35, women juggling parenting responsibilities, and women who weren't Instagramm-ing, Twitter-ing, FaceTime-ing around the clock were often missing. Women working in large, mostly-German companies and in the public sector looked at me in confusion when I talked about what I did. "I wish there was something for me to learn IT skills," confided one mom I know. "What is an accelerator / incubator / hackathon?" asked other women.
While hackathons and incubators meant very little to some women, their younger counterparts considered them to be as normal as doing internships: these events were seen as paths to jobs and to building a "network." But when it came to activities outside the bubble, younger women seemed to be at a loss. I once gave a talk at SoundCloud on working in tech. One question from the super tech-savvy, mostly-female audience was this:
"How did you have kids?"
If women inside the tech sector didn't know ways to balance having a tech career and kids, small wonder that women in more "traditional" jobs had trouble to imagine it, as well. And yet, when I started to meet with recent immigrants from Syria and Iraq who'd had professional careers before wars drove them from their homes — almost all of these women had children.
That led me to a turning point: how to "integrate" women in Berlin to a new industry, new way of working, and new technologies to work with, without excluding any woman with the desire to learn? I wanted to create an alternative to men-heavy tech bootcamps and hoodie-filled hacker spaces. I wanted to blend two groups of women pursuing the same goal — entry to a well-paid, growing industry — without making any woman feel unwelcome, patronized or disadvantaged.
Word of mouth and two years of patient, dedicated volunteer coaching later, FrauenLoop has grown and expanded in the best of ways: to suit the needs of resident and immigrant women in Berlin.
FrauenLoop operates in English: the better to keep our students and mentors from Germany, Egypt, Pakistan, Venezuela, Greece and Syria "at eye level" in terms of working in a second language for almost everyone. With the generous help of other tech industry insiders, I've responded to students' and mentors' questions with public workshops — about how to present oneself online, how to interview effectively, how to navigate salary negotiations, and how to find out about and pursue tech industry roles and technical skills that many women may only recently have learned about.
Our learning tracks have expanded from one to three, and the first six FrauenLoop alumnae have been offered paid work from local German tech companies — as has a male volunteer mentor who's also a refugee from Syria. A Turkish woman commenting after a recent session summarized her experience very simply;
"I just realized that there is no competition — that's actually what's different here. No one is showing off."
FrauenLoop has gone from an integration program meant for refugee and German women, to a tech integration program for women from all over the world. I believe that FrauenLoop can bring to the tech industry what it is currently missing: different perspectives based on place of origin, age, family situation and — of course — gender. Global migration is making the whole world smaller, but computer algorithms built today often reinforce old stereotypes. This won't change until people belonging to marginalized groups begin to enter the tech industry and build different algorithms, or, at the very least, challenging their uncritical use. At FrauenLoop, women share knowledge and do what is most effective in making change: helping one another.